---
---
We discussed above the philosophy of using an editor to interact with R, and thus fortuitously saving our work to file. Numerous editor based interfaces are available for R, and a good choice is Emacs with the ESS package.
Emacs, as often it does, provides the most sophisticated access to R, through the use of the ESS Emacs package, providing a simple mechanism to type R commands into a file and have them executed by R on request. Figure 27.3 illustrates the basic interface. After starting Emacs, load in a file (or create a new file) with a name ending in R. With the ESS package for Emacs installed (for example, installing the ess package on Debian GNU/Linux) you will see an empty window with an R toolbar, similar to Figure 27.3.
Figure 27.3: The ESS GUI interface to R within Emacs, showing the edit window on top, where R code can be constructed and saved to file and requested to be evaluated. The R window below is where the R code is evaluated and its output is displayed.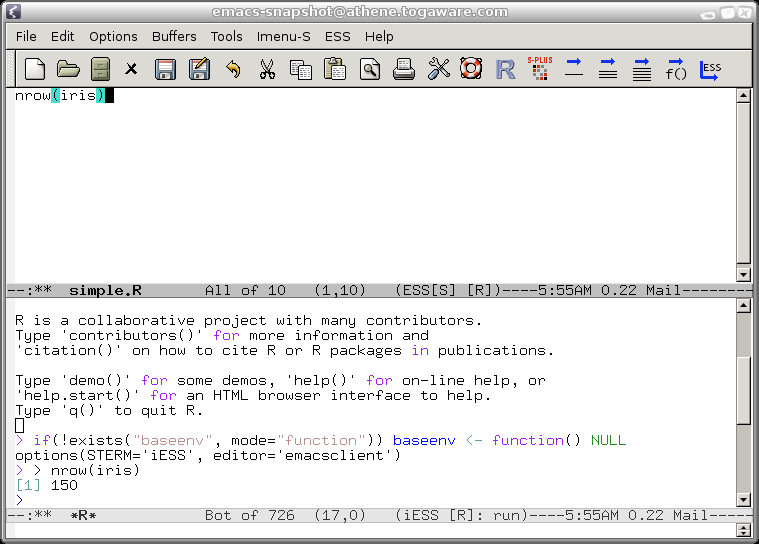 Initiate an R subprocess in Emacs by clicking on the R icon. You'll be asked for a folder for R to treat as it's default location for storing and reading data. A buffer named *R* will display and you can type R functions directly to have them evaluated. Switching back to an R file buffer (or, as in the figure, splitting the window to display both buffers) will allow you to type R functions into the buffer and have them evaluated on request. The series of icons to the right of the R and SPlus icons allow the functions in the file buffer to be executed in the R subprocess buffer. From left to right they are: evaluate the current line (the arrow and single line); evaluate the currently highlighted region; load the file into R; or evaluate the current function. Simply clicking one of these icons will cause the R commands to be evaluated. It is a simple yet effective interface.

Copyright © 2004-2010 Togaware Pty Ltd Support further development through the purchase of the PDF version of the book.
The PDF version is a formatted comprehensive draft book (with over 800 pages).
Brought to you by Togaware. This page generated: Sunday, 22 August 2010